Since 2008 The Farleys have been performing in pubs, clubs, festivals and parties across Surrey, honing their enormous party talent.
Serving a smorgasbord of modern pop in the style of a bygone age the boys deliver their party fayre using drums, bass, banjo, ukelele, clarinet, saxophone, trumpet and four-part vocal harmonies. Their infectious groove is guaranteed to get your guests dancing.
The boys love to play and their sincere performance wins over audiences from eight to eighty (years of age, that is, not total number. Eight would be a very rubbish-sized audience indeed. Crikey, the band would nearly out-number the audience. I digress...)
There is an intriguing back-story to how so many of the party band's songs have become so familiar. The band of brothers, from the leafy suburbs of Surrey, perform songs written by their long-lived mother who, over the years, has found her song book raided by the famous artistes who have had the great privilege to share her company.
Legal action is pending. But we're not hopeful of winning. Which is why the brothers have been sent out to earn their keep.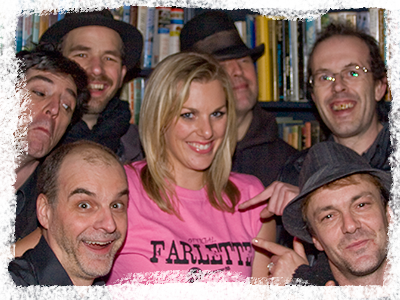 I booked The Farleys for our engagement party in January this year after a recommendation. Instantly they got the crowd dancing and the atmosphere was buzzing from their unique style. All of our guests commented afterwards saying the CFS4 MADE the event what it was - a really great, fun night out!

I would not hesitate to book them or recommend them for another event where I want to guarantee a good time!
Kerry Spiers