Farleys play The Brit
The Britannia, Guildford
Farleys play The Brit
When:

9:00pm Saturday 20th April 2013
FREE GIG!
It is time again for the good people of Guildford to make their pilgrimage across the crystal waters of the canal and pay homage to the inspirational gods of music - Mr Guinness and Jack Daniels.
Oh, and the Farleys will be playing too, bringing their particularly unique blend of humour, new-songs-done-old-style music and gaffer tape.
The whackiest, funkiest, least self-conscious dancer wins the much-coveted Farlette t-shirt.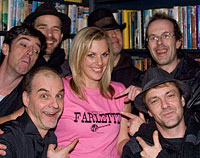 Kerry Spiers winning a Farlette t-shirt after an evening of bumping, grinding and other metalwork. Good girl, Kerry!
The Britannia
9 Millmead
Guildford
Surrey
GU2 4BE